Michael Montlack
Stevie Nicks as Fairy Godmother
How we run to her, extending
our hearts skinned like knees,
knowing she has the bandage.
A twirl of gauze. Hoarse from
all her hollering: Beware love!
Look how it's sent me spinning!
Why—why do we never listen?
Mesmerized by the melodies,
perhaps we long to hurt …
so we might have cause to hide
beneath her cape, searching
for some secret pocket
where she stows the tonic
she pours into her songs.
---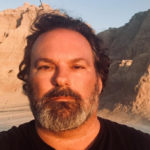 Michael Montlack is author of two poetry collections and editor of the Lambda Finalist essay anthology My Diva: 65 Gay Men on the Women Who Inspire Them (University of Wisconsin Press). His poems have appeared in Prairie Schooner, North American Review, The Offing, Cincinnati Review, Poet Lore, and Florida Review. In 2020, two of his poems were nominated for Pushcart Prizes and one was a finalist for Best of the Net. He lives in NYC.