Jane Yolen
Bambi Haiku
An old book opens.
A fawn loses his mother.
Yes, there will be tears.
A child 's first movie.
My age? I was only four.
The skunk was no help.
I kept on screaming:
"Bad men killed Bambi's mommy."
I was taken home.
A week of nightmares.
I had to sleep with mother.
Oh, Dismal Disney.
---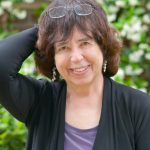 Jane Yolen's 400th book was published in March 2021. Her latest book of adult poetry in November 2021. She writes for children, YA, and adults: picture books, poetry, nonfiction, novels and has won dozens of awards, including the Caldecott Medal, the Jewish Book Award, the Catholic LIbrary Award, two Nebulas, many World Fantasy Awards, etc. One of her awards set her good coat on fire. Six colleges and universities have given her honorary doctorates.