Susanna Rich
Last Night Before Viet Nam
Ron and Skipper drive a base Jeep from Fort Dix to Ocean Grove, walk the boards to the neon lights of Asbury Park, find Mindy and me queued up for sundaes, ask to cut in, treat us, these young men in fatigues, arms straining their polo sleeves, buzz cut, clean-shaven. Ron and Skip are #47 and 48 in our summer tally of guys we meet.
Ferris Wheel into the dark sky, bumper cars, hot pretzels. Skip grabs the brass ring on the carousel, wins me the Kewpie baby doll from among prize teddy bears, pink furry ball pillows, hula hoops. Ron water-guns down metal ducks to win Mindy a stuffed elephant. We take the swan ride on Wesley Lake. Skip keeps looking at his watch, wants to walk by the water.
Bags of Planters' peanuts between us, Coke for the girls, Bud for the guys, we lie on the sand. Pass Winstons between us. Skip calls me voluptuous. We don't go past kisses. We promise to write.
On his one visit after discharge, Skip sits on my couch. Hair past his ears, scruffy face, very blue eyes. I model the prom dress I wore, chatter about playing Maria in The Sound of Music, sing him "Something Good." He smells of beer and Winstons. Won't talk of Nam. No kisses. No promises.
Mindy never heard back from Ron. She still talks about him, after a lifetime with Mike,
two boys, six grandchildren. How she wishes she had let Ron touch her breasts, just once, when he asked.
---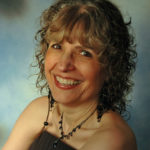 Susanna Rich was twice nominated for an Emmy-Award for her poetry. She is a Fulbright Fellow in Creative Writing, a passionate feminist, environmentalist, and activist. Susanna is author of five poetry collections, most recently Beware the House and SHOUT! Poetry for Suffrage. She is founding producer of Wild Nights Productions, LLC, through which she tours her musical, Shakespeare's *itches: The Women v. Will. Visit her at www.wildnightsproductions.com and becauseicanteach.blogspot.com.