Marie-Célie Agnant
from Balafres translated from the French by Danielle Legros Georges
EUMÉNIDES
My body holds the habits
of delirious torrents
of rumblings of earth
in rebellious jolts
Revolt in the body
fastened
since the first dawn
humanity's tongues
hold no words
for my whirlwinds
My body holds wild words
surging
sulfur ashes lava
and time since the Érinyes
in my body
is no more
thirst
mountains
stones heated white
shards
MOTHER'S DAY
To imagine you
gone this Sunday
gone from your life
the music
scent of chicken
bean sauce
the cadence of forks
the familiar voices
You push back your plate
your hunger dead
the urge to trick this
useless day
The rain falls drowning your dreams
a thousand times spent on a packet of letters
on yellowed photographs
To imagine you
gone this Sunday
this Sunday in November
November in the month of May
The want for a way
to go on
you will watch
as long
as your tears fall
To imagine
your headstrong hungers
beneath a grey eternity
mother-mole-woman-girl
like this pauper
at the hospice
your life hiccups
gives up
Three thirty a.m.
you don't go to the mosque
there is sand beneath your feet
and the desert
You go to church to invent a prayer
like a shout
You go to church
to invent a dream
for a Sunday gone
Holy Mary Mother of God pray for him
to imagine yourself this Sunday
at an altar's foot
The French originals of these poems have appeared in BALAFRES, Publisher: Les Éditions du CIDIHCA. Date: July 1994. These English translations are appearing for the first time.
---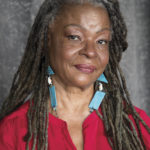 Marie-Célie Agnant is a writer, translator, and activist whose novels have been widely-translated and include The Book of Emma (2004) which evokes the hardships endured by enslaved women in the Caribbean and the challenges to giving voice to this history today. She received le Prix Alain-Grandbois of the Academie des Lettres du Quebec in 2017 for her most recent collection of poetry, Femmes de terres brûlées. Her critically-acclaimed work offers poignant refusals of silence. Author photograph by Alain Lefort.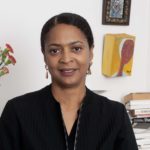 Danielle Legros Georges is a creative and critical writer, translator, and academic whose work spans the fields of contemporary U.S. poetry, Black and African-diasporic literature, Caribbean/Latin American and Haitian studies, and literary translation. Her most recent book is Island Heart (Subpress Book, 2021), translations of the poems of Ida Faubert. Photograph by Jennifer Waddell.