Jessica Cuello
These epistolary poems are written in the voice of Mary Shelley as she addresses her dead mother, the writer Mary Wollstonecraft. Wollstonecraft died 10 days after giving birth. Mary Shelley's father, William Godwin, raised Mary with unusual strictness and little affection. P. refers to Percy Bysshe Shelley who first visited the Godwin household as an admirer of Godwin's radical ideas. Godwin did not approve of a relationship between Mary and Percy; Percy was already married and his wife was pregnant with their second child. Percy and Mary met secretly by Wollstonecraft's grave. When she had her first child, Mary was unmarried and her father refused to see her. In "P. and I did not play hide and seek" the italicized lines are taken from Charlotte Gordon's biography Romantic Outlaws. In "We rent a house…" genius of famine is from Shakespeare's Henry IV. The Coleridge quote is taken from Fiona Sampson's In Search of Mary Shelley.
Dear Mother,
P. and I did not play hide and seek.
He left
and I played Seek Seek.
How much of the ice-palace will I repeat.
He told me to decide between
Italy and the sea.
I said, Get your hair cut in London.
When I was 15
Prima Facie was my due.
Face of mother,
father's face.
Prie-Dieu
was my praying desk.
Preterhuman was a word he made.
We made a man.
I made five lives
and two were lives.
We roped with words
what could not rope.
I tore back
what could not tear—
my pink paper skin
and I made him
a face to learn his face.
My face was his
and it left
enough imprint—
but not enough
Yours in infatuation,
Mary
Dear Mother,
We rent a house in Italy.
Black currants stain our
fingerprints. We write in red—
mother and child. My skin
remembers P.'s glyptic touch:
the sex we had beside your grave.
When I was 15 his words were
earnest like a slingshot.
We gospelized you.
I prepare fermented fish.
The tiny blade lifts the bones
like threads. P. is a genius of wander
and invention. Not one domestic task
takes his attention.
And I, in the kitchen, am a genius of famine.
Your loving daughter,
Mary Shelley
Dear Mother,
The cadaverous silence of Godwin's children is quite catacomb-ish
–Coleridge
Silence was my pride, my object stillness,
the quiet-prize              My brain
was a carnation on a stem
made my god-of-a-father look at me:
quiet petals and silver pages
I meant to read until I was his perfect
daughter, but P. put one hand beneath
my smock and all the untouched years
responded        Godwin had nothing
to hold me with          I didn't know
he'd snap me like a stem and toss me
on a pile of exile        He was my god,
first partner, the sun to my green tissue
He sent me letters with formal closings
as though I was still plicate in my room
leaf-ribs pointed toward him,
plumule hidden from all but him
Mother:           you didn't raise me
Mary Shelley
---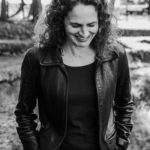 Jessica Cuello's Liar was selected by Dorianne Laux for the 2020 Barrow Street Book Prize and her manuscript "Yours, Creature" is forthcoming from JackLeg Press in spring of 2023. Cuello is also the author of Hunt (The Word Works, 2017) and Pricking (Tiger Bark Press, 2016). She is a poetry editor at Tahoma Literary Review and teaches French in CNY.