Dzvinia Orlowsky
Newton's Cradle
"You have to love a nation that celebrates its independence every July 4th… with family picnics where kids throw Frisbees, the potato salad gets iffy, and the flies die from happiness."
– Erma Bombeck
1.
A crazy good time for everyone drinking
and blowing themselves up,
for the guns, bells, and the bonfires,
and for the flames hurled towards the tops of buildings.
But not for our dog
swaddled in an old nightgown, shaking.
Not for my mother anxiously rocking it,
pillows propping her up in bed.
Not for silence
beating with an animal heart, the synchronized
clockwork held within a small rib cage,
short-haired fur—as soft, she used to say,
as a velvet glove lost behind
an opera house seat
or dropped in the snow searching for a key.
A luxury one couldn't count on.
2.
Not for the sky backfiring into showering
white spiders, the dog's pupils
darkening into small black umbrellas.
Not for bad luck getting personal in 1942.
Not for the unwanted child aborted on a kitchen table.
Who would take care of it?
An unborn brother
or sister blocking Mother's ears
with ghostly small fingers.
Not for birds that lie scattered lifeless on the ground
or for the disoriented bees that won't go back to their hives.
Stars & Stripes Forever rushing to its end.
3.
Not for her waving me away: Leave me alone.
Or calling me back: Stay if you understand.
I wish I'd stayed. I wish I'd understood.
I kissed the top of her head and left.
Some skies are impermeable to fire.
Some fires die as red skies.
The collisions were perfect
and would swing forever.
---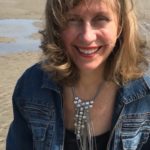 Pushcart prize poet, NEA Literature Translation Fellowship recipient, and a founding editor of Four Way Books, Dzvinia Orlowsky has authored six poetry collections published by Carnegie Mellon University Press including Bad Harvest, a 2019 Massachusetts Book Award Must Read in Poetry. Her co-translations with Ali Kinsella of Natalka Bilotserkivets's a collection of poems, Eccentric Days of Hope and Sorrow, was recently published by Lost Horse Press. She is Writer-in-Residence at Solstice Low-Residency MFA in Creative Writing Program.