Review by Mindy Kronenberg
Poets are often drawn to the fragile expanses of a landscape—internal or external—and Kelly R. Samuels' poems seek to capture the ephemeral beauty of existence and place that is in peril as we go about our lives. Her poems give elegant and evocative homage as they serve as cautionary tales in a world of climate change denial and the transformative forces of humanity and nature.
Her language skillfully summons a music of shift and flow, the rhythms of expansion and retraction of a changing vista. From "Here's Now Alteration:" (35)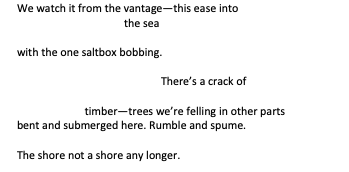 And from "Antarctic Moss," (17) where color bursts it way onto a pristine plane:
Now green,       where once no green.
Where only    once    white and gray, and the tinge of hazy mirror
and blue imagined. Like late May on this thrust into water—
where winter is so long, the snow so deep,
the signs towering to be seen.
Even as the "glacier's scraps float nearby" there's persistence of the peculiar beauty of "this verdant growth, this jumbled assemblage."
Interspersed in this collection are poems that are heralded by long sequences of latitude, longitude, and elevation, giving them the reverence and revelatory sense of chapter and verse, the lines akin to recitation or prayer. "When Water" (p 19) contemplates diminishing familiar landmarks amid rising sea levels ("There was nowhere else to go/with what we came on/in. The horse, the cart, the car/now traded for what floats."). "River Thefts" (p62) bemoans the disappearance of water banks:
Once water, now dust storm, cascade and rattle.
The skip             and tumble        of the dried weed.
Or: what once flowed north now travels south,
eschewing the sea for the ocean.
The docks hunch in clay
or pocked mud, hardened.
And  in "The Isle de Jean Charles" (p18) we are given biblical-like instructions to "Go inland. Cross the bridge for the last time./ Come the rain that will come, what choice?/ Gather seeds and settle elsewhere, where/ wheat replaces waves, where the oar/is mistaken for winnowing."
The issues of an endangered ecology are also expressed in juxtaposing personal memory with global attempts at sustainability, creating a poignancy if not irony in how pollution transforms behavior. "Plastic Debris, Borne" (p 21) takes interesting shape as it sorts through the "Bits/ and pieces. Dregs." of plastic bottles that travel ocean currents yet become a part of available construction for "…a man somewhere warmer than here/ building houses with them, lining walls–/their captured air insulation./ And if a hurricane comes, a means/ of transportation too:/ the makeshift raft/serving as savior." It is this same material that recalls girlhood fantasies: "…we slid the plastic/ tabs on our ring fingers and said, Darling/ how lovely.
All the Time in The World thoughtfully reminds us of the fragility of our selves—the blurring footprints of our evidence, the familiar world diminishing with memory—and cautions against our unflappable complacency as the planet and its inhabitants spin toward an uncertain future.
All the Time in the World
By Kelly R. Samuels
Kelsay Books, 2021
---
Mindy Kronenberg is a widely published poet, writer, critic, and professor of writing and arts courses at SUNY Empire State College. Her work has appeared in print and online publications around the world and featured in various art exhibits. Her books include Dismantling the Playground, a poetry chapbook, Images of America: Miller Place, a pictorial history, and an illustrated book of poems, Open. She is the editor of Oberon, an international poetry magazine.