Annis Cassells
Two Daughters, Twice Blessed
for Amina and Asila
When your daughter reads your poem aloud on New Year's Day
And it's the first time you've heard it read by someone else
A tenderness blooms, expands throughout your chest
Like the first time her gaze held yours and she said "Mama"
When your daughter generously offers her Reiki Bliss Blast
Radiates love to friends and strangers, to the world at large
Hands around the globe raise, wave, request her blessing
Again, you recognize how beloved, how trusted, she is
When your daughter is one whom others seek for help
Her innate wisdom recognized, her counsel valued
When she sows seeds of compassion, inclusion, and grace
You realize the grandeur of her scope of influence
When your daughter leads the service at Inspire Spiritual Community
Welcomes the congregation in her sincere glad-to-see-you voice
Begins the meditation, "Exhale everything before this moment"
Yesterdays, last nights, and this mornings no longer exist
When your daughters have the courage to live in authenticity
Leave behind jobs and positions that no longer fulfill them
Strike out on their own, work to realize their dreams
Commit to building lives of purpose and personal meaning
When your daughters consider you, what you love, what you need
And arrange for a meditation master and a personal trainer
Support you when you set out in pursuit of your heartfelt dream
Pose perfect questions as you determine if, and how, to proceed
When your daughters and you experience the worst year in a lifetime
When their aunt, your sister, dies of cancer then the pandemic strikes
When Black lives still matter less in the United States of America
When wildfires scorch and kill, hurricanes whisk away homes and breath
When life crumples, becomes an arduous puzzle, you have your daughters—
The children you birthed, nurtured, celebrated, admired—
You grasp the strength and power of your profound love.
Poet's Journey
In this corner of my heart, this place
where I own the truth of who I am
I think on remnants from the past,
longings from those limiting youthful
years when I dare not speak of my desire
to string together words in poems.
Rooted on my shoulders, the task of most first-borns—
to lace together a future packed with promise
to raise no doubt my parents' sacrifice was worth it.
And I did.
College, two enchanting daughters, a rewarding career.
Several quakes along the way, yet a good and gratifying life.
But heart-place passions rise like heat
return to haunt and taunt and nudge,
propel forgotten longings frontward.
These days I craft poetry, parade it across
the page, hone verses that please and discover
this me, the one teaching herself who she is.
---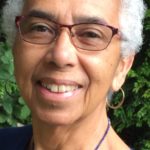 Annis Cassells is a mother, writer, life coach, and teacher.  She published her first poetry collection, You Can't Have It All, in 2019 at age 75 and is working on her second collection. She is a contributor in the social justice anthology, ENOUGH "Say Their Names…", poetry, prose, and photography from the 2020 BLM Protests. Annis splits her time between California and Oregon, where she conducts online memoir writing classes for senior adults.