Melissa Joplin Higley
A Mother's Lament
He knew her as the beginning.
A union of bodies divided
into another, then replicated
exponentially; he grew
inside her. Soon, his heartbeat
patterned hers. He came to know
her murmurs and sighs, shortened
and breathy. He heard small voices:
outside—a brother, a sister—chanting
bits of nursery rhymes, cupping
small hands over small songs,
welcoming the mystery in her belly.
*
She sang to him, too,
while she washed dishes,
her belly pressing against
the edge of the sink more
each day. She dipped her hands
again and again into iridescence.
She knew she should stop
singing to him, stop her
other children from singing,
in those heavy weeks before
she would have to let him go.
She willed herself to pull
her hands from the warm
water, watched the final
drops fall from her fingers,
waited until the last ripple
flattened and disappeared.
---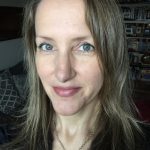 Melissa Joplin Higley has worked as a sound engineer, trumpet teacher, yoga teacher, editor, and manuscript reader. She holds an MFA from Sarah Lawrence College and currently assists with a freshman writing class at SUNY-Purchase. She lives with her husband and son in Mamaroneck, NY.