KT Herr
Sealskin, to her selkie
Into a middle drawer
you tucked me
weary & drack–– I feared
tearing grew rank, patient
& cracked along the fold like spent
leather nestled among the t-shirts.
How you itch strangely-clad
in all that landlocked traffic.
Will you mourn
mollusk-mouthed & turn
mewling back
to your native coast?
Will you prod my slackness
at your hip; measure our return
against the long bright pane
of regret? And who will teach us
to remember how to wake a body
to its home's emphatic music?
 In Scottish folklore, a selkie is a seal-like creature which may shed its pelt to take human form, often so as to take a human lover.
---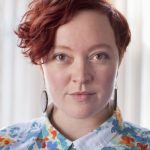 KT Herr is a queer poet, songwriter, and amateur fisherwoman. She is poetry editor for The 3288 Review, and workshop coordinator for the Sunnyside College Prep and Right to Write programs. Her poems have appeared in SWWIM, Pilgrimage Magazine, and Punch Drunk Press. She is a poetry MFA candidate at Sarah Lawrence College (2020).