Hilary King
Joan of Internet
Slut
They say on Twitter
Whore
They say on sub-threads
Burn this bitch
They say when she speaks up about
#gamergate
#metoo
                                                #anything
She lived simply once,
spinning wool beside her mother.
She saw things
and she spoke what she saw.
Trolled and doxxed,
she changed her address, her handle,
her hair.
Still they came for her.
Still, they come for her.
Still, she fights,
Thread, she writes, Part 1.
---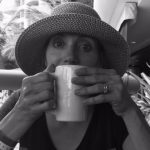 Hilary King is in her 50s and lives in the San Francisco Bay Area of California. Her poems have appeared in Fourth River, Belletrist, PANK, Blue Fifth Review, Cortland Review and other publications. She is the author of the book of poems, The Maid's Car.