Kathleen Aguero
SELF-PORTRAIT AS A GERANIUM
Here's all I've got:
one showy cluster of red blossoms,
fancy hat on a scrawny neck
rising above bare stems and gently ruffled leaves
with their dark inner border, peach fuzz. Leggy, untrimmed,
I'm Americana Red in a green plastic pot,
a scatter of brown blooms
dusts the soil beneath me.
I know how I must look
straining toward the window
close enough to kiss it,
better yet tap out, break through.
Look at me. Let me out.
Look at me. Let me out.
Petals weighing nothing.
SELF-PORTRAIT AS AN EMPTY BOAT
Water licking my ankles
Salt's slow finger down my back
Sanded by the wave's rough tongue.
Then a long ride down a slow swell
a short slide down a whale's fin
my spine a keel, a skate's egg case––
that's what I wanted when I entered the water
The current pulled but I rose
seasoned, warped,
hold-slosh, smell of low tide
SELF-PORTRAIT AS A SUNRISE
Here I am
can-can girl high-kicking
night out of the sky. Coral skirts,
hot pink feather boa, arms draped
across that electric navy horizon.
Dazzle dance, quick flirt, fade, and gather
my skirts into that spiked circle
children paint in the corner
of their pictures. That thing you think
you know.
---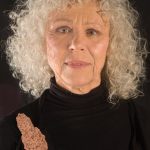 Kathleen Aguero's most recent book of poetry is After That. She teaches in the Solstice low-residency M.F.A. in creative writing program at Pine Manor College and in Changing Lives through Literature. She also conducts creative writing for caregivers workshops both privately and in community settings.