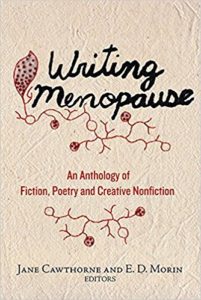 Writing Menopause:
An Anthology of Fiction, Poetry and Creative Nonfiction
Jane Cawthorne and E.D.Morin (Eds.)
Review by Bunny Goodjohn
[W]hen a woman ceases the fretful struggle to be beautiful…[s]he can at last transcend the body…and be set free from [people's] expectations and her own capitulation to them" (Greer 175).
Some years ago, I took Germaine Greer's The Change to a conference. After long days of lectures, I read this seminal work on menopause in bed. I knew one day soon I would need to navigate that landscape and I trusted Greer to guide me.
I wish Writing Menopause had been on my nightstand, too. Greer's feminist voice was brilliantly hard-edged and stark. But Cawthorne and Morin would have added fifty-five more to the mix, and I might have been not only informed and ready for a fight but also entertained, validated and prepared for what has become the most challenging and rewarding period of my life so far.
Many who have been through menopause attest to its complexity: the dizzying assault on the physical, the emotional and even the spiritual. Sally Ito took me back to the madness of those early post-surgery, zero-hormone-therapy days with her poem "Dervish":
Servitude no longer suits.
Submission is the will you have no stomach for.
You enter the Pause like a dervish
about to set fire to the wick of longing. (20)
For me, these lines serve up menopause: the ditching of old ways, the perceived madness, my refusal to "submit." Whether Ito's speaker is burning down or lighting the "wick of longing" doesn't matter to me. What matters is that we are in charge of the match.
In "Man with a Vagina," interviewer Morin suggests that society categorizes menopause as comedy or as problem to be solved. Buck Angel, a transgender filmmaker, speaker and advocate who underwent surgical menopause as part of his transition, agrees and thinks the answer to all of this negativity might be found through more open discussion. He says, "[W]e could discuss menopause more within the trans community as well as the cisgender male community…[as a way to]break down [that]barrier and have men stop using it as a means of explaining why 'women act this way'" (53).
Hormones and menopause are an everyday double-act performed by adrenal glands or ovaries, absorbed through a patch, or swallowed with morning coffee. While Angel's successful journey through this minefield with its associated therapies may be more unusual than most, his findings from the post-surgery trenches are common ones: "My life changed sexually with the use of hormones…I can tell you my life is better than ever and that includes my sex life" (54).
Interviewer Morin makes the point that more of the anthology submissions—whether fiction, nonfiction or poetry—centered on sex than on anything else. Quoting Taryn Thompson ("I plan to fuck my way right through my geriatric years"), Morin reminds us that "after menopause, we still have a lot of our lives left to live" (12, 54). If that's true (and I hope it is), I need a mentor or guide to help me through what's left. So I was pleased to meet Chrissie Hynde in the anthology's opening piece. Who better than her to show me the way?
In "The Chrissie Hynde Stories," Rea Tarvydas meets Hynde in a barbershop in Calgary. The singer's reaction to the male barber's reluctance to shave Tarvydas's head (she calls "misogynistic bullshit") sets up an empathy between the two women. Tarvydas says,
I considered sex with a younger man. Twenty-five years since I'd disrobed in front of a man other than my husband. I considered the dangers of vigorous sex when lubrication was an issue. Cystitis at a minimum. "I don't think I'm ready for that."
"Do it anyway," said Chrissie Hynde. (10)
On reflection, I think Hynde has the best solution. Even if we don't feel ready for the challenges and recalibrations of this post-bleeding life, the mantra "Do it anyway" is maybe the only way to move forward. After all, the alternative is to retreat and do nothing, and too many of us have defined this period of our lives as one in which we "stop taking chances, / learn to hedge our words, /and not commit" (84).
So let us channel Chrissie Hynde. Let's take chances. Let's shout a lot and commit to everything and anything that sets us free.
Writing Menopause: An Anthology of Fiction, Poetry and Creative Nonfiction
Jane Cawthorne and E.D.Morin (Eds.)
Inanna, 2017, $25.95 [paper] ISBN 9781771333535
224 pp
---
Bunny Goodjohn, originally from the UK, is the Book Review Editor at Mom Egg Review and the author of two novels: Sticklebacks and Snow Globes (Permanent Press) and The Beginning Things (Underground Voices). Her poetry collection, Bone Song, was published in 2015. She directs the Academic Services Center and the Writing Program at Randolph College in Virginia. www.bunnygoodjohn.com