Fishing without a fishing pole
is feeling vibration and tug
is like playing a harp
with the fingers rather than the nails
feel the strings as they tighten, loosen
feel the nibble at the other end
and tug on the hook, pull it through
the flesh
below the water's surface
you catch fish this way
play soft strung instruments
the guitar, the harp, the psaltery
you can catch a love this way too
playing the strings softly, amiably
especially the invisible ones
at wrist and knee
sewn on by a mother long ago
with care and determination.
---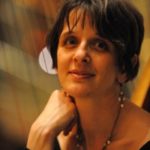 Odarka Polanskyj Stockert is a New Jersey native poet and and long time member of South Mountain Poets and the Yara Arts Group. Odarka is a harpist, poet and songwriter, an engineer and inventor. She lives in Millburn, with her family. Visit her at: http://www.facebook.com/pages/Odarkas-Poetry-Page/250392821524 and www.Odarka.com. Odarka's poetry has been previously published in a variety of journals.