Hand tempera paintings
of New York City sewer systems,
an unripe plum, mass of potential cells,
bundled and bursting to expand,
mitosis ready, to form organs and limbs.
Paintings of flowers, and empty soil beds
swollen breasts,
remembering peri-bottles,
the chill white tile, exposed pipes
and gray grout,
I wrap it in toilet tissue, set it on the tub edge
sensing an importance, but then
worry someone might stop by and need to use the bathroom,
or Yosef, before I tell him,
I put it in the bowl and flush.
Lost.
And a sliver of skin
sent for chromosome testing
these are the irretrievable things.
On the top floor on Roosevelt Way,
surrounded by collages, paper
and brushes, wailing,
asking for forgiveness, rest,
shalom.
---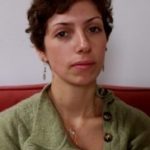 Elsa Asher is a poet and doula. She earned a BA in Healing and Humanities from Eugene Lang College and Antioch University, and held a year-long residency at Richard Hugo House. Her work has been published in Word Count, Scribes, and ReWrite. She has performed at New York Poetry Festival and The Poetry Project. She lives in Brooklyn, NY. www.elsaasher.com