Women Writers Series – Photography by Roberta Fineberg
http://www.robertafineberg.com/
The following portraits are selected from Roberta Fineberg's collection of portraits of One Hundred Women Writers.
Portraits of Innocence and Wisdom

is a photo essay of approximately 100 women writers, shot roughly between 1988-1998 in Paris, London, Moscow, and New York (and their environs)—the title of the series borrowed from Blake's Songs of Innocence and Experience.

In short, the photographic portraits, chronicling female writers I had conspicuously chosen as representatives of serious literature, were in varying stages of youth, middle age, and old age. With the passing of time (over 20 years since the project's beginning), the subjects of my photos have all crossed at least one major threshold of age—moving from one stage of life to another; the majority of the women writers in my photographs now in a mature phase of life.

Along with my learned role models, time has traded in my youth for experience—maybe granting me with some of the wisdom I searched for as a young woman living in Paris and searching for answers in other women's great works of art.

–Roberta Fineberg, 2010; NYC
---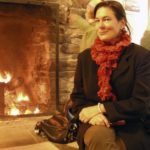 Roberta Fineberg  http://www.robertafineberg.com is  an award-winning photographer based in Paris for almost a decade before moving to New York in 1995, has been exhibited in the United States, France, and Russia. The photographer's work is in individual and private collections including the Bibliothèque Nationale and the Bibliothèque Marguerite Durand  http://bit.ly/c4VfjV—where two of her portraits of women writers http://bit.ly/9y5guG are included in the exhibit "150 YEARS OF FEMINISM" on view from November 18, 2010-March 13, 2011 in Paris.