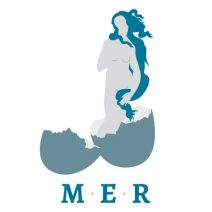 Submit
Calls for Submissions to Mom Egg Review .
Submissions for MER 20 Now Closed
Submissions are currently closed for all forms except visual art, which remains open until 7/31/21.
Thanks to all who have submitted work. We will respond as quickly as we can.
Below were the guidelines, for informational purposes.
MER 20 Submission Guidelines
Mom Egg Review opens May 1, 2021 for literary submissions on the theme of "Mother Figures" for our annual print issue. We publish poetry (up to 4 poems, no more than 6 pages), and flash and short fiction, creative prose/nonfiction, and hybrid works (up to 1000 words) on mothering or motherhood. We also seek mother-themed art. You need not be a mother to submit.
Themed issue: "Mother Figures"
For our 20th annual issue, Mom Egg Review seeks literary work related to "Mother Figures"  --- from history, religion, pop culture, TV shows/movies, mythology, fairy tales, ecology (Mother Earth) and real life.
This is a theme issue, so for this one we are not looking for regular motherhood stories and poems if they don't connect with the theme, as described below.
We are interested in iconic "Mother Figures." Think Demeter, Ceres, Freya, Gaia, and Isis; June Cleaver, Rainbow Johnson, Morticia Addams; the Venus of Willendorf, the Biblical Sarah, Rebecca, and Mary; Hamlet's mother Gertrude, fairy tale mothers and step-mothers, Instagram influencer moms, "good moms," "bad moms," super-hero moms, and on and on. What values do "mother figures" celebrate or reinforce? How does your own experience of mothering jibe with the characteristics of iconic mothers? Is there an iconic mother you identify with?  Perhaps a persona poem or story in the voice of a Mother Figure?  
Calendar (Eastern Time)
PLEASE NOTE: We have reached the Submittable limit of free submissions, so Early Bird Submissions has had to close.
Our regular submissions remain open.
If the $3 submission fee is a hardship for you, you can apply for a Scholarship Submission (please see our guidelines--scroll down-- for info).
Thank you!
CLOSED: Early Bird Submissions May 1 to May 7 (free, up to the Submittable limit).
OPEN: Regular Submissions ($3 fee or free with subscription purchase) May 1 to July 15
We will respond by Jan. 2022. The issue will be published in April 2022.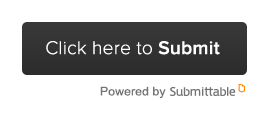 What to submit (please read; some of our guidelines have changed).
Please read our print journal Mom Egg Review and online quarterly, MER VOX on our website, to get an idea of the kind of work we publish before submitting. Current and back issues of the journal are available here, as well as PDF copies of the current and recent issues for $5 each.
Submit work that has not been published previously online or in print.
Simultaneous submissions are okay, but please let us know promptly if your submission is accepted elsewhere, by using your Submittable.com account to add a note to your submission telling us which titles are no longer available for consideration.
Submissions will be considered for the print issue and for VOX MER on our website unless you specify that you are only submitting for one or the other. If you have previously submitted to Mom Egg Review, we request that you submit work other than that previously submitted.
IMPORTANT NEW GUIDELINE: If your work was included in the Mom Egg Review Vol. 19, please wait until next year to submit to our print issue. If you submit work, it will be considered for online publication only.
How to submit
We use Submittable for online submissions, and do not accept paper or email submissions.
You may submit only one free "Early Bird" submission per genre.
Thereafter (and concurrently) we accept Regular Submissions, from May 1- July 15 2021. There is a $3 fee for each poetry submission (of up to 4 poems), nonfiction/creative prose submission, art, and fiction or cross-genre submission (up to 1000 words total—can be several short pieces that total under 1000 words).
Submit free if you subscribe to the upcoming issue for a special price of $14. When in Submittable, select the option you prefer.
Cover letter: Please include
the title(s) of each individual work in the submission
a brief (50-75 word) third person bio. (Please limit credits to up to three books and three journal/anthology publications).
All genres:  Submit your work in one document named "Last name_First name,Genre." (prefer .doc, docx, .txt, or .rtf, but if your work has unusual spacing, you may submit in pdf form).
Poetry: Please submit up to 4 poems in a single word or text document of no more than 6 pages with the file name Last name_First name_ Poetry.  Do not put your name on the pages themselves. Please number your pages and start each poem on a separate page.
Important: Please left justify your poem without indenting and single space your poem (unless indenting or extra spacing is an integral part of the poem).
Creative Prose, Fiction, Cross-genre: Please submit one piece up to 1000 words, or several short-short pieces that total fewer than 1000 words in all, in a single word or text document with the file name Last nameFirst name_ Genre.  Please double space, number your pages, and put title of the submission (but not your name) on top of each page.
Visual Art:  Please submit up to four works of art (drawings, paintings, photos, etc.) that relate to mothers or motherhood, in a .jpg file at 300 dpi.  (MER cover is color; interior art is black and white.  If your art is selected, we will request a larger file.
Scholarship Submissions: We have a limited number of submission scholarships available. If the submissions fee is a hardship, you may submit during the "Early Bird" period or email us at MERsubmissions @gmail.com with your submission, cover letter and bio. Please put "Scholarship Application" as subject line.
Contact: [email protected]  (Please be sure to add this address to your email program so that you can receive correspondence from us). We will add all submitters to our mailing list (we send a bimonthly newsletter) but you may unsubscribe if you wish.
Terms of publication
You represent that you own the rights to the piece, and allow us to publish it. Mom Egg Review acquires first-time publication rights to the piece. We also reserve the right to republish it in a future electronic and/or print collections. Back issues are archived indefinitely. Rights return to the authors after publication; after the contributions have appeared in Mom Egg Review, the authors may republish their pieces in any manner they wish but it is requested they acknowledge prior publication in Mom Egg Review. We are a volunteer organization, and are unable to pay for pieces at this time.  A complimentary PDF contributor copy of the complete issue will be emailed to you prior to the launch date. You will also have the opportunity to purchase hard copies at reduced contributor rates if you wish.
Thanks for submitting to Mom Egg Review.
Please join us on Facebook:  http://facebook.com/momeggreview
---
Calls for Submissions - MER VOX
Call for Poetry Submissions / Mom Egg Review Ekphrastic Challenge
for June, 2021, VOX Folio
Co-curated by Jennifer Martelli and Cindy Veach
For this folio we are asking writers to respond to Keisha-Gaye Anderson's evocative piece titled "Escape." We're looking for work that responds to Anderson's piece by entering it and engaging emotionally, visually, and viscerally through a lens that considers mothers/motherhood.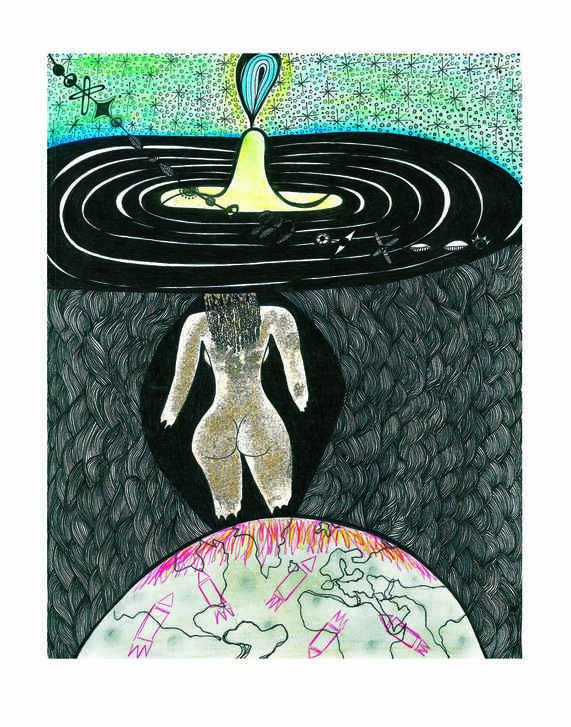 We encourage and invite voices from marginalized communities.
If you've been in a recent or upcoming issue of MER VOX (online) or MER (print issue 19), please wait until the next call to submit to VOX.
Please submit up to three unpublished poems in a single word doc, no more than one page each, by May 31, 2021, to [email protected].
You will be notified ONLY if your work was accepted by June 4, 2021.
If accepted, your work will be featured as one of approximately ten poems in The Mom Egg VOX Folio.
We're really looking forward to reading your work!
Jenn and Cindy
Mom Egg Review co-poetry editors
About the Artist: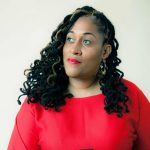 Keisha-Gaye Anderson is a Jamaican-born poet, creative writer, visual artist, educator and media strategist living in Brooklyn, NY. She is the author of the poetry collections Gathering the Waters (Jamii Publishing 2014), Everything Is Necessary (Willow Books 2019), and A Spell for Living (Agape Editions 2019), which received the Editors' Choice recognition for Agape's 2017 Numinous Orisons, Luminous Origin Literary Award. A Spell for Living is a multimedia e-book, that includes music and Keisha's original art work. She is a past participant of the VONA Voices and Callaloo writing workshops, and was short-listed for the Small Axe Literary Competition. In 2018, Keisha was named a Brooklyn Public Library Artist in Residence. Her art has been featured in exhibitions throughout the greater New York City area. Keisha is a graduate of the Syracuse University Newhouse School and holds an MFA in creative writing from The City College, CUNY. See more of her art here: https://keisha-gaye-andersons-store.myshopify.com/collections/art-prints/products/framed-poster-escape