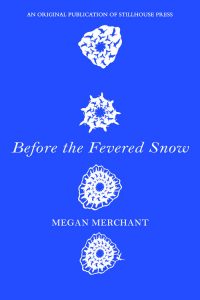 Review by Sherre Vernon
Megan Merchant is an editor at Pirene's Fountain and The Comstock Review and holds an MFA from UNLV and is the author Gravel Ghosts (2016), The Dark's Humming (2017), Grief Flowers (2018) and Before the Fevered Snow (2020). She is the winner of the 2015 Lyrebird Award, the 2016-2017 COG Literary Award, the 2018 Beullah Rose Poetry Prize.
Before the Fevered Snow is Megan Merchant's elegy to the unravelling and eventual loss of a very influential mother. From the early poem "Nesting," to the whispered 4-line "Elegy" that marks the collection's final page, Merchant's speaker demonstrates to us again and again that she "will never live a year/without [her mother]   tacked under [her]  tongue." The speaker's inability to separate herself from her dying mother is called up repeatedly as she navigates the other intimacies of her life: a fraught marriage; the tests of parenthood; the impartiality of nature; the simple act of walking through the world in a woman's body.
Merchant uses poetic form to remind reader the importance of these parallels, or reflections, in this collection's near-consistent use of couplets. Though she periodically deviates from couplets to tercets, or to the occasional single line or quartet, Merchant consistently reaches toward the two-line stanza to set up relational mirrors between her speaker and some other. It's through these mirrorings that we come to see the speaker's mother figure as a guiding force. To the reader, this is evident long before the penultimate poem where the speaker names her mother's desire to "become the patron saint / of animals" and prayerfully "asks her to stay with [the children], keep them alive."
In all of this, Merchant's speaker reaches deep into the Mother Wound. She wants to mother and be mothered. She wants a connection that will enable her to bear the wasting away of her mother, and in some ways, herself. Just as the title of Merchant's collection implies, this agony is a beautiful paradox, one that left untended will destroy itself. It is only with that final loss, in accepting that her mother is "ephemera," that Merchant's speaker recognizes her struggle for approval—her fundamental desire to be seen by someone who cannot fully see her—is what has been driving her agony all along.
Before The Fevered Snow by Megan Merchant
Stillhouse Press, 2020, $17 [paper] ISBN 9780996981651
---
Sherre Vernon is a seeker of a mystical grammar and a recipient of the Parent-Writer Fellowship at MVICW. She has two award-winning chapbooks: Green Ink Wings and The Name is Perilous. Readers describe Sherre's work as heartbreaking, richly layered, lyrical and intelligent. To read more of her work visit www.sherrevernon.com/publications