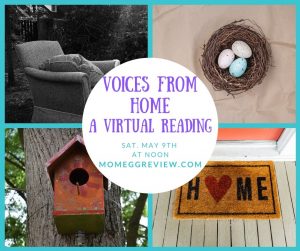 Mom Egg Review Proudly Presents
Voices from Home
A Virtual Reading from MER
18 – HOME Issue
Mom Egg Review celebrates its HOME issue with a virtual reading by contributing writers and poets.
When the theme for this year's issue was set as "Home," no one had an inkling of how timely the theme would be! But "home' has always had multiple connotations and meanings— Is a home a place, a feeling, a center, a community? A battleground or refuge? Home land. Home base. Unhoused. Also home neighborhood, others' homes, away from home. The home you grew up in and the one you call your own. The earth as home. Can work be a home? Can a poem be a home?  Mom Egg Review writers explore "Home" through the lens of motherhood.
Welcome to the Reading!
A Message from Marjorie Tesser, MER Editor in Chief, Cindy Veach and Jennifer Martelli, MER Poetry Editors
Get the MER 18 HOME Issue
Featured Readers (Video, Audio, and Author's Note)
Click on the links below for the readings. You can also click on any link in the sidebars.  Enjoy!
Erica Bodwell – Child, Mother
Raylyn Clacher – And I Am Alright
Elizabeth J. Coleman – Galaxy
Barbara Crooker – Pentimento
Linda Cue – This Dwelling In Between
Lisa DeSiro – Living Room
Lori Desrosiers – Cuddling With Mom
Valerie Duff – Where I'm From
Iris Jamahl Dunkle – Mother Song
Chad Frame – Killing Jar
Gabrielle Freeman – Low
Marcene Gandolfo – Hiraeth
Lisa Grunberger – Dreaming of Exile
Heather Haldeman – 127 Fremont Place
Leslieann Hobayan – Home (Il)Elusion
Romana Iorga – Two Children
Jules Jacob – Before the Fly Settles and Backyard Classifieds
Jennifer Jean – The Outsider Card in the Osho Zen Tarot
Samantha Kolber –  It's Here
Julia Lisella – Labor After Two Decades
Katie Manning – Hermit Crab
Cathy McArthur- Someone said my brother sat on the stoop and called my name,
before the ambulance came.
Resa Mestel – Good Garden
MaryAnn L. Miller – ThunderStorms
Noriko Nakada – At Home In America
Rebecca Hart Olander – Cape Ann
Tina Parker – Tending the Baby
Tali Perch – Pieces of Home
Puma Perl – Evicted
Jo Pitkin – Village: Cinnamon Rice
Kyle Potvin – Ghosts of Weston Street
Kimberly Ann Priest – Wanting You Back Again
Soraya Qahwaji – Did your family own slaves?
Quinn Rennerfeld – Garlic
Soraya Shalforoosh – Corporate Job with Headphones
Linda Sienkiewicz – From Our House to Your House
Lauren Goodwin Slaughter – The Interview
Lisa López Smith – In the Templo de la Compañía de Jesús in Oaxaca, Mexico
Sarah Dickenson Snyder – The Sound of a Door
Danielle Stelluto – Best Gift I Can Give My Kids
Christine Stewart-Nunez – Simplifying
Gail Thomas – Prayer for a Home Place
Lan Tran – Sewn
Pramila Venkateswaran – History of My Suitcase
Ingrid Wendt – Leaving the House
Cynthia White – Cosmogenesis