Marjorie Maddox
On Writing Inside Out: Poems on Writing and Reading Poems with Insider Exercises
I didn't plan on publishing a book during a pandemic. You may not have planned on reading it then, either. But, since most of us are now inside, Inside Out: Poems on Writing and Reading Poems with Insider Exercises will, I hope, find its way inside the lives of your middle-grade and YA children, as well as become an inner part of your own writing practices. If you are also a teacher, this is also a book for you, especially if you are looking to engage your or your students' inner muse while staying inside.
Like you, I imagine, I became a reader for the same reason that I became a writer. I love words, and I love playing around with sounds and images. But not everyone feels that way. Inside Out is based on my thirty plus years of teaching poetry at the college, secondary, and primary levels. It's a fun way to introduce students to the joys of writing poetry (and various poetic techniques and forms). That includes children and young adults who may fear or even hate writing. Why? Because fun is contagious and energizing, and the most exciting avenue to learn about poetry is from inside the poem.
Although this book is geared toward students, throughout my years of teaching I've adapted these exercises for those from 5 to 90 years of age; you'll find this is a book that you can share with your loved ones, all of you writing together.
Inside Out begins by inviting readers to see, smell, hear, taste, and touch a poem. For example:
How to Smell a Poem
First, inhale deeply and equally.
Your nose, noble and brave,
knows how to adjust to each form
of aroma. Still, when you dive
into scent and swim about
until you're wet with the whiff
of each syllabic drop,
try not to sneeze when the breeze of ballads
becomes the breath inside your lungs.
Be forewarned: the incense of words intoxicates.
There's a peppermint odor to odes
and no lemons, no melon emanates from palindromes.
As for lack of predictability, free verse is the worst:
who knows what stench will attack the old olfactory,
what fragrance will rejuvenate your young but numb nostrils?
That's the adventure to savor in this flavor extravaganza.
Keep following the trail of scent to sniff out the meaning.
I then model various literary techniques by writing poems, about those techniques and using those techniques. As you can imagine, this is a lively way to learn or teach paradox, couplets, alliteration, onomatopoeia, eye rhyme, dramatic monologues, similes and metaphors, and the like. I challenge you to try one of your own. Here's a short one:
Pun
A little Jack-in-the-box joke
waiting to spring its double meaning.
And I couldn't forget form and all its intriguing word games just right for any poet, regardless of age. "How to Write a Clerihew," "How to Text a Triolet," "Getting Ready with Iambic," "How to Write an English Sonnet," "How to Write an Italian Sonnet"—and these poems about these forms are just to get you started. Here's one of my favorites because it's also about how and why we write.
Fishing for Sestinas

At first, there is only the paper
as plain as sleep without the dream,
as flat as the sea without its waves,
no sound, no ripple, no fish
slipping in and out so
suspiciously. Ah, now write

that, not worrying about wrong or right
but only what floats up to your paper,
what your fishing pole of a pencil tugs so
deliciously toward your eyes. Dream
of letters swish-swishing their fins, of fish
bright as summer minutes, of waves

that twist and flip and cha-cha-cha. Wave
hello and reel them in. Words are your net. Write
a thousand buckets full of fish
that flip about, splash till you and your paper
are soaked with poems and all they dream.
Too many? No need to even sew

up the holes, the poems themselves sew
together our world, the way fish in waves
thread themselves in-and-out, the way dreams
swim their own stories, can write
themselves below the surface, the way paper
can catch even the smallest fish

floating within your mind. Let's fish
together on quiet afternoons so
still you hear the whispers of bluegills. With their paper-
thin scales, they rise above the waves
of your thoughts, trying to write
up their own storm of images. Let's dream

this water together, this lake of dreams
brimming full of rainbow, rhyming fish
that glitter as they leap. Let's write
the entire salty ocean so
full of creatures, they surf the waves,
then scuttle across the flat sand of paper.

Ah, the joy of pencil and paper that dream
such jubilant waves, that fish
for syllables so splendid we cast our lines and write.
Inside Out ends with a series of interactive writing exercises (based on the poems) and a glossary of terms. Experiment with line breaks, play tug of war with abstract and concrete language, try on various personas, and perform magic tricks with personification and acrostics. In short, step into the poem as a poet and as a parent or teacher, then spread the joy to young writers. I'll meet you there! Ready, get set, write!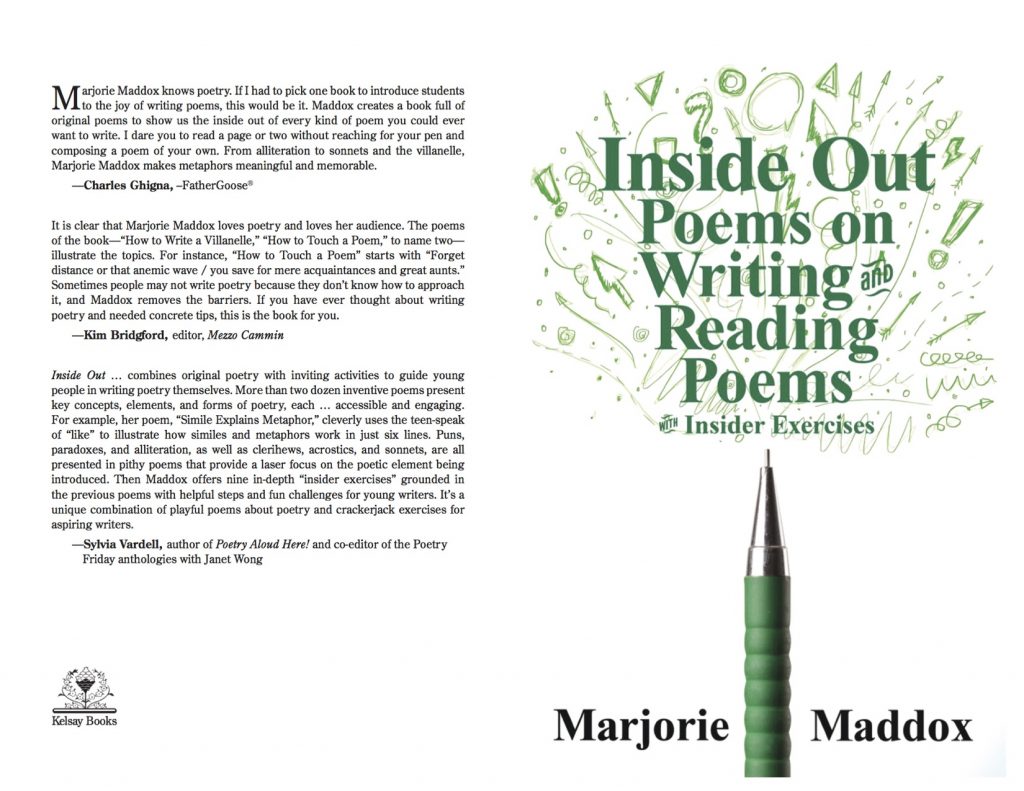 Inside Out: Poems on Writing and Reading Poems with Insider Exercises
Kelsay Books, April 2020
61 pages, $16
Available on Amazon and at Kelsay Books
---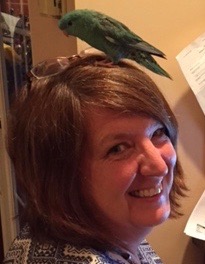 Winner of America Magazine's 2019 Foley Poetry Prize and Professor of English and Creative Writing at Lock Haven University, Marjorie Maddox has published 11 collections of poetry—including Transplant, Transport, Transubstantiation (Yellowglen Prize); True, False, None of the Above (Illumination Book Award Medalist); Local News from Someplace Else; Perpendicular As I (Sandstone Book Award)—the short story collection What She Was Saying (Fomite); four children's and YA books—including Inside Out: Poems on Writing and Reading Poems with Insider Exercises, and A Crossing of Zebras: Animal Packs in Poetry, Rules of the Game: Baseball Poems , I'm Feeling Blue, Too!, Common Wealth: Contemporary Poets on Pennsylvania (co-editor); Presence (assistant editor); and 600+ stories, essays, and poems in journals and anthologies. She is the great grandniece of Branch Rickey, the general manager of the Brooklyn Dodgers who helped break the color barrier by signing Jackie Robinson to Major League Baseball. The chair of the jury of judges for the 2020 Lee Bennett Hopkins Poetry Book Award, she gives readings and workshops around the country. For more information, please see www.marjoriemaddox.com