Jacqueline Doyle
CHEATED
When Dina arrives at the Social Security office at 9:15 am, clutching the envelope stamped URGENT, there's already a long line at the door and no seats left inside. The waiting area looks more like an auditorium than a waiting room, with orange plastic bucket chairs lined up in ten to fifteen rows. Well over a hundred people jostle each other, many standing in the aisles, some with babies in strollers and children crawling at their feet, others alone, beaten and hollow-eyed. Homeless maybe, on permanent disability. Any one of them could be her daughter. What if Joanie …? But she's trying not to think about that.
There's a small desk with a uniformed information officer up front. "Do I have to take a number if I got a letter asking me to come in?" she asks him.
"Yes ma'am, take a number at the kiosk."
Another line. When it's her turn at the kiosk, she has to type her social security number on the screen, something like self check-in at the airport. She glances over her shoulder nervously. Anyone behind her can see her number as she punches it in. With all these numbers floating around, is it any wonder that someone has stolen hers? The menu of choices doesn't include "Fraud," so she punches in "Other." She isn't asked to elaborate.
The machine spits out a paper receipt with the number 104. The number on the screen at the front of the room is 364. How can that be? She returns to the information officer to ask. The numbers will cycle through the 300s, starting with 300, then 301, then the 200s, then the 100s. Which makes no sense, but then none of this does.
When someone stands, Dina takes her chair, wedging herself between a listless girl in a faded t-shirt and a middle-aged woman in tight workout leggings who gesticulates as she talks on her cell. "They want your social too, Mom," she says into the phone. "They say I can't do this without it. Wait, wait, let me find a pencil." Dina wonders what could possibly require a parent's social security number.
Again she thinks of Joanie, whose last conviction was for check kiting. Could it be? Does Joanie have her social security number? But she hasn't seen her for almost four years. "Good riddance," her older daughter said when she heard Joanie was gone. "You've been enabling her. Let her deal with her own shit." Dina knew she was right, but Joanie's absence has left such a hole in her heart.
It's half an hour before she's called up to #1, a teller's window, not to discuss her case, but to be checked in. Then another two hours before she's called up to #6, which turns out to be a door directly beyond the five teller windows.
"You got my letter," a man says, stepping out from behind the door to shake her hand. "I'm John Gonzalez."
There was no signature on the letter. Dina is surprised that it actually came from a person, and that he's standing in front of her, affable and smiling. Maybe ten years younger than her, but not young. Forty-something, clean-cut, chubby, dressed in a drab beige dress shirt tucked into dark trousers.
He nods as he takes notes, answers her questions. "Most of these cases stem from the Equifax and Blue Cross data breaches. The information gets sold. The thieves sit on it a while before they use it. This probably won't be the last identity theft incident you're faced with. They'll try something else, or someone else will."
She doesn't know whether she feels better or worse, knowing that so many others have been affected. She isn't safe. No one is safe. Information is peddled around the globe that could bankrupt her, but she isn't alone.
She'd learned that she wasn't alone when Joanie was bounced out of her second rehab. There were other mothers, other families. But the knowledge didn't seem to help then either.
Though she'd only managed one cup of coffee before her rushed departure, Dina has the sick, overwound feeling from too much caffeine. She swallows to counteract the acid in her throat.
Mr. Gonzalez types into his computer, opens one screen and then another. He gives her a brochure to read as he takes her driver's license to photocopy in another room. "Identity Theft and Your Social Security Number." Leafing through the pages with trembling fingers, she worries about what might happen next. Could she lose her house? Her pension?
And what if Joanie's involved? Isn't Social Security fraud a federal offense? It's probably not her. Who knows who these people are, or where? Anywhere in the world, it seems. The thieves used a fake email address and a fake bank account number in their fake application for disability benefits.
"Direct deposit into prepaid bank accounts. That's always a red flag for us," Mr. Gonzalez said. The police probably won't find them.
But what if? She winces, picturing her beautiful child, so happy, such a good student. The disaffected teenager Joanie became, the angry college dropout, the strung-out thirty-something addict. Lies, recriminations, promises, failed rehabs. Loans never repaid, outright thefts—like the time Joanie came for the weekend with two down-and-out friends and left with the guest room TV, her grandfather's watch, and miscellaneous silver. It's the times, not the parents' fault, at least that's what friends said to Dina's face.
She sees her daughter's face in front of her, guileless blue eyes, high cheekbones, nose a bit crooked. A face so like her own. If someone were to steal her identity, who better than Joanie? She yearns for her lost child.
"You'll need to contact the police if you want to prosecute," Mr. Gonzalez says as he stands to shake Dina's hand. "Do you want to do that?"
She hesitates and then takes a deep breath.
"I'll think about it."
She blinks away tears as she pushes the revolving glass doors to exit the building, faced with reflection after reflection of herself.
---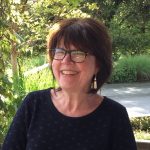 Jacqueline Doyle's award-winning flash chapbook The Missing Girl was published by Black Lawrence Press last fall, and she has recent flash in Wigleaf, Hotel Amerika, The Pinch, and Post Road. Two of her flash are long-listed as Finalists in the forthcoming Best Small Fictions 2018. She lives in the San Francisco Bay Area and can be found online at www.jacquelinedoyle.com and on twitter at @doylejacq.