Megan Buchanan
Diamonds Heat the House
What you have
is exactly what
I'm always looking for, he said.
How soon can you
come by? Monday's good,
I said.
And there go the Victorian diamonds
worn twice in ten years.
The magnifying glass
says Russian. Undergrad
graduation gift (thank you,
Mom) – sold
for a Smith College deposit,
a little propane
in a hollow tank.
Long winter, little work.
Worth it.
Done.
And there go the wedding rings –
sweet crescent moon
with tiny diamond stars
sparkling on
both sides, whether
coming or going.
And the other
an enameled
bluegreen river,
miniature metaphor,
encircling
curved channel
carved through white gold.
I saved the two carat
sapphire for our son.
Cornflower blue, dreamy to me
but not blue enough
to be worth much, the man said.
Tonight I'm in the river,
basalt-hearted and quiet.
I'm holding my breath
and from under
the churned surface
I see two children
standing on the shore.
---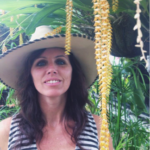 Megan Buchanan's poems have appeared in The Sun Magazine, make/shift, A Woman's Thing, and multiple anthologies. Her first collection, Clothesline Religion, is forthcoming from Green Writers Press in March 2017. She's a teaching artist and dancemaker, with two children born fourteen years apart (same due date). www.meganbuchanan.net